Imagine what life would be without telecom. It is a vital factor on how people can connect to one another and do business on a global approach. Reliable communication is the bread and butter of every company. May it be for reputation, productivity, and overall aspects of the day to day running of the business. It is also used to promote the products and services of every company.
On a more personal note, telecommunications are very significant for every family. It is where we mostly rely on communicating with our loved ones living across the other side of the world. Telecommunications is a vital part of any medical situation to alert important persons of any emergency that may happen. Basically, it is part of who we are!
Read along and see some notes on the importance and benefits of telecommunications in our daily life:
#1 for Satisfaction of Basic Needs
Communication plays a vital role in society. It has become the foundation of so many sectors whether in the government, business, small organisations, or even with families as they for the most part rely on telecommunications. Years before, it was a struggle for some since telecom was not reliable as compared to today. Thanks to advanced research, telecommunications has reached heights such as phone calls, video calls, voice messaging, chat, and searching the web.
Telecom services give us a platform for an exchange in communication electronically through the 5G network. Important documents, reports, or emails can be easily exchanged with your business partner, colleagues or clients on the other side of the globe. How convenient it is! Now with more inventions in telecom like smartphones and tablets, businesses can thrive without being physically present to achieve productivity and to make your business grow.
#2 Helps Boost Education
During the pandemic, the education sector struggled with transitioning from physical classes to homeschooling. Most students have to adjust to learning independently and with less supervision from teachers and mentors. But because of technological advances, it became possible! People now have access to other methods of learning than the traditional ones. Today, you simply need gadgets like a smartphone, laptop, computer, and most importantly, the internet to make online school and research possible.
Some institutions are now adapting to these changes, thanks to telecommunications! It has provided quality education to some remote areas that needed it. Students and educators have found this method extremely beneficial, since they are able to save money that would be spent on housing and travel
Another positive side of this scenario is that students get to spend lots of time with their family since they can do school while at home. Online education provides students and mentors the flexibility and liberty to cater to both their work and studies. Social media websites have played an important role for them to connect and share information. This we think has been a game-changer for telecommunications as a whole!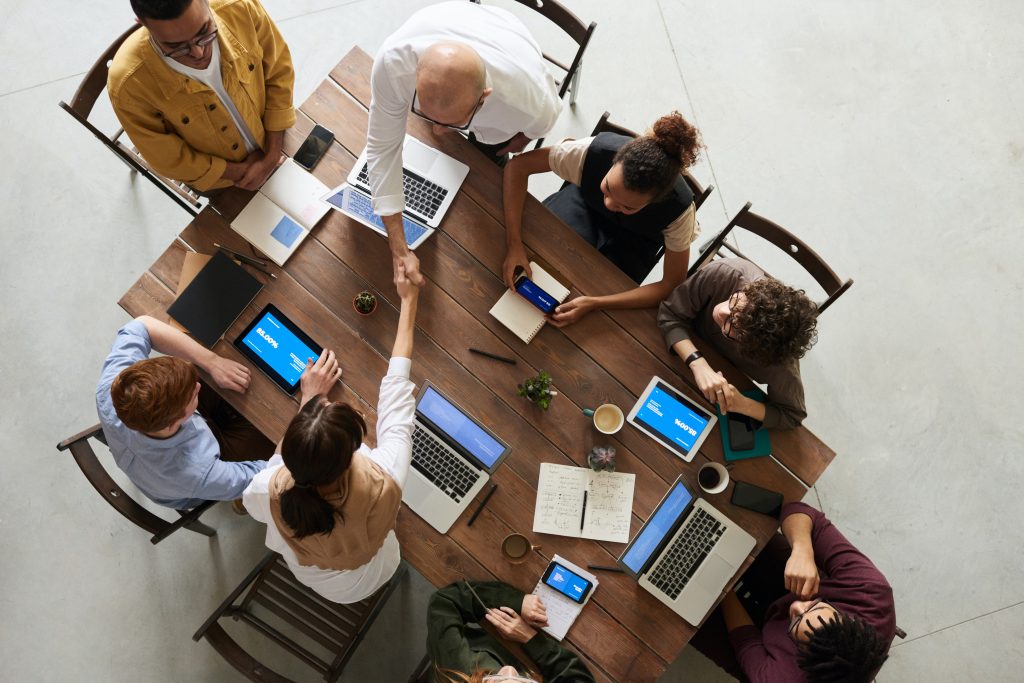 #3 Transformation of the Business World
Just like the education sector, companies have also struggled during the pandemic. Most of them were not able to look for ways to continue running the company. A lot has been affected because of it. Again, telecommunications saved the day! Telecommunications services companies have been on their A-game in providing the best connection to companies who have been relying on it to adapt their operations to become efficient and intensify steady growth. Instead of the usual on-site work, they switched to working from home which most still practices up until today. In this modern business world, many companies have employed multi-functional teams to discuss new products, corporate proposals, and marketing campaigns, to name a few.
In order to ensure business continuity, telecom internet providers make sure that connectivity is available across all aspects. As such, these teams has the technology needed to deliver 5G networks from any location, allowing for greater productivity, increased connectivity, and teamwork.  
At Telco Build, we provide services for you as a marketplace in providing the best telecom service providers there is. We help you build your future connection! Visit our website for assistance and let us together build a world one step closer to the future at a time!