Featured Comms Insights
A better way to manage cable stress – Stick'nGo Cable Labels
December 7, 2018 9:48 am by 4Cabling
If you've ever wished for a better way of identifying the mess of cords in your server or office environment, then these CABLE LABELS are just what you need!
Stick'nGo Cable Labels come in a range of 4 stylish colours, so each department or family member can select their own colour for instant cable & device identification. This is what cable management dreams are made of.
Stick'nGo Cable Labels can manage and identify voice & data cables, leads & wires for your home, office or network. These flexible hi-tech labels wrap around & lock-on to cables in seconds. You can even record identification details on the back of the labels - super useful when travelling!
https://www.4cabling.com.au/cable-management/cable-labeling/cable-labels/stick-ngo-cable-labels.html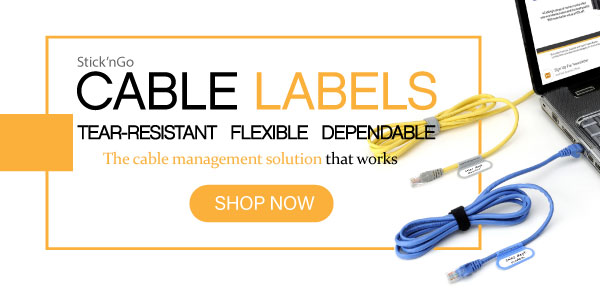 4Cabling's NEW INSTA CRIMP TOOL!
December 6, 2018 9:09 am by 4Cabling
4Cabling's Insta Crimp Tool is a MUST for every tool belt. This versatile tool can cut, strip and crimp ethernet cables with precision and reliability. Compatible with 4Cabling's own Cat 5e and Cat 6 Insta Crimp Plugs, you know that the job will be done right. Every time.
FEATURES:
Crimps and trims any excess wire in a single movement. This saves time and ensure wires are all flush with the end of the connector
Ratchet mechanism
Consistent termination
Crimps 4Cabling Insta Crimp's
Built-in stripper for round cable
Built-in cutter
https://www.4cabling.com.au/4c-insta-crimp-tool.html