Featured Comms Insights
Introducing the NEW 4Cabling Portable, Foldable, Laptop Workstations!
February 20, 2019 9:35 am by 4Cabling
PORTABLE, FOLDABLE LAPTOP WORKSTATIONS 20% OFF!
If you want quality, durability AND style when it comes to your ergonomic laptop desk, then look no further! 4Cabling's NEW range of Foldable Laptop Workstations give you convenience and functionality. To make the deal even sweeter, get a further 20% off as a special introductory offer - as well as FREE SHIPPING!*
Take your workstation where you need it. 4Cabling's Foldable Laptop Workstation folds down flat and has a convenient pull handle as well as wheels for travel. Store it away, chuck it in the boot. The foot pedal allows you to quickly and easily raise the platform to the required height.
Make the change for your health today.
*TERMS & CONDITIONS:
Things you need to know:
ONLINE orders ONLY.
FREE SHIPPING AUSTRALIA wide only on orders over $50.
Sale runs from 19.02.19 to 08.03.19 or while stocks last.
NO rainchecks.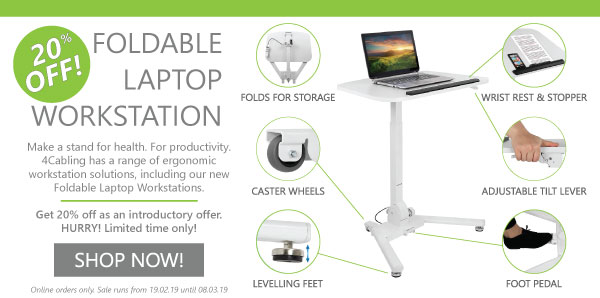 🆕 It's shiny! It's new! It's the Mercku M2! 🐝
February 14, 2019 9:24 am by 4Cabling
Say goodbye to dead spots in your home or office.
Say hello to revolutionary Wi-Fi!
We're pleased to announce that the Mercku M2 Wi-Fi MESH System is now available in Australia for the first time!
The SAA approved M2 Wi-Fi MESH System gives you the speed, connectivity and control that your home / office deserves.
The M2 MESH Wi-Fi Router System powerful enough to support up to 60 devices, with minimal degradation to the Wi-Fi experience, making buffering a thing of the past.
The system can be tailored to your home or office's design, and can easily be expanded as your needs grow.
Find out more HERE.