Our Global Marketplace for all your Telecommunication needs.
Welcome to Telco Build's Newsletter #30
If your organisation has any information or products to include in our Newsletter, please get in touch with us at [email protected] ...We are here to help!
Tenders available at the moment
Continue to watch this space. We look forward to bringing you more exciting projects to tender on
HFC-MDU Cabling & Civil crews required - New South Wales, Queensland and Victoria

Copper Testing, Hauling & Jointing Sub-contracting crews required - Victoria.

Civil Construction and Pit & Pipe Installation Sub-Contractors - ACT
A HUGE Thank you to those that have actioned the previous tenders, as we continue to receive positive feedback on the outcomes from both parties.


See website or click below button for details on all locations.
Prysmian's
Compact & Medium Multi-Function Joint – CMJ / MMJ
What a Game Changer on Flexibility options!
Ideal for use as a cable chamber joint, track joint, spur joint or distribution joint due to their capacity and compact size.


CMJ: 144 single element fibres.
MMJ: 288 single element fibres.

CMJ: 12, each trays suitable to accommodate 12 splices.
MMJ: 24, each trays suitable to accommodate 12 splices.

CMJ: Ultra compact closure for the splicing of optical cables.
MMJ: Compact closure for the splicing of optical cables
Input manifold manages the tubes to a common routing channel and has the provision to mount up to four optical splitters.
Integrated loop storage basket for mid-span applications and excess fibre storage.
The joint is for use with heat shrink splice protectors of 1.3 mm in diameter and 30 mm in length. Splice trays compatible with 2.2 mm diameter and 45 mm in length splice protectors are optional.
Supplied with a pole/wall mounting bracket.
Splice trays hinge upwards individually allowing for full access to spliced fibres without disturbance to live fibres in adjacent trays.
The joint has four circular ports for mechanical entry glands, one oval port for mechanical entry or heat shrink and two additional small circular ports also for heat shrink entry.

Circular mechanical glands across CMJ, MMJ and LMJ, oval port entry kit across CMJ and MMJ.

Closure is sealed to IP68.
Pressure test valve for both flash testing and cable earthing can be fitted as an optional extra.
All joints can be delivered with the required input and output cable kits, brackets and valves included. Joints are kitted with 1.3 mm splice protectors trays as standard and stock items, however, 2.2 mm splice protector trays are available as an option.


CMJ - 1.3 mm or 2.2mm splice protectors
MMJ - 1.3 mm or 2.2mm splice protectors


Oval port for heat shrink or mechanical entry:
– Can accommodate cables up to 23 mm in diameter.
– Sealed using adhesive lined heat shrink sleeves or using a mechanical oval port entry kit.


Up to four circular ports for mechanical entry glands:
– Can accommodate cables up to 23 mm in diameter.
– Sealed using a mechanical sealing gland.
– Gland can be assembled onto the cable away from the joint and simply plugged into the base.
– Two small circular emergency ports available for heat shrink entry: Can accommodate cables up to 12 mm in diameter.
– Multi-way entry glands are available to allow the installation of a number of cables into one circular port.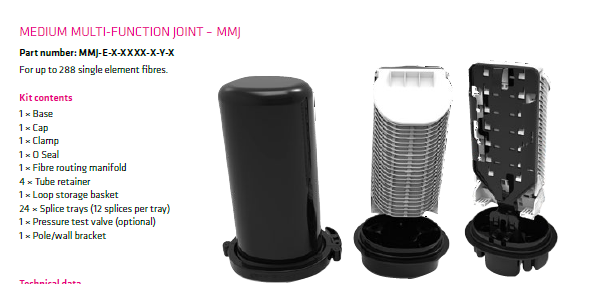 Are you looking for a new Employment Opportunity to join an amazing organisation?
Please take a look at our Advertised Positions page
This position would suit an experienced ex-Telco or Power technician that no longer works on the tools.
Take a LOOK at our Special Offers currently available
Most of these offers are only available to Telco Build Members, so be sure to take advantage of them!
We're also please to have MILCOM on board, allowing us to present you with some fantastic training courses
Use

Promo Code ONLINE05

to Get Discount.
PACKAGE DEAL - Endorsement Pack - $975
Install, terminate and certify Structured Cabling,Installation
Install and terminate optical fibre cable on customer premises
Install and terminate Coaxial Cable
Short courses
- Open Registration
- Structured Cabling (Cat 5, 6 and Beyond – CPR Endorsement)
- Coax Cabling Endorsement
- Optical Fibre Cabling (CPR Endorsement)
- Aerial Cabling Endorsement
- Use electrical skills in telecommunications work
- Follow work health and safety and environmental policy and procedures


Technical Security
- CCTV Installers Course
- Commission and decommission security equipment and system
- Identify and diagnose CCTV equipment and system fault


Safety Courses
- Perform pole top rescue
- Provide cardiopulmonary resuscitation
- Working safely near live electrical apparatus as a nonelectrical worker
- Perform EWP rescue
- Perform EWP controlled descent escape
- Provide first aid in an ESI environment


First Aid
- Provide first aid
- Provide cardiopulmonary resuscitation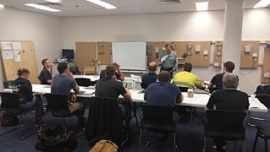 Profile Pages
To our Telco Build Partners....Most of the interaction on our website happens based around your organisation profile pages
Please take a moment to ensure your organisation profile page is up to date. If there's items in our search engines not listed, that you specialise in, please email them through to [email protected] so we can have them added.