Our Global Marketplace for all your Telecommunication needs.
Welcome to Telco Build's Newsletter #27
The Easter long weekend is fast approaching, so please reach out if there's anything we're able to assist you with.
If you have any Easter Sales, please be sure to use our Special Offers page.
If your organisation has any information or products to include in our Newsletter, please get in touch with us at [email protected] ...We are here to help!
A HUGE Thanks to each and every one of you for the support and assistance you've provided us over the years!
Tenders available at the moment
We're also working with some other parties, so we look forward to bringing you more exciting projects to tender on
HFC-MDU Cabling & Civil crews required - New South Wales, Queensland and Victoria

Copper Testing, Hauling & Jointing Sub-contracting crews required - Victoria.

Survey, Rod and Roping / Hauling and Installation of Active Equipment - New South Wales and ACT

Civil and Drilling Sub-Contractors - Queensland and Victoria -

EXPIRES SOON

Civil Construction Sub-Contractors - New South Wales -

EXPIRES SOON

Civil Construction and Pit & Pipe Installation Sub-Contractors - ACT
See website or click below button for details on all locations.
Small Joint Closure - SJC
From now on you only need one supplier to purchase both your fibre cables and joints!
Our range of joints and accessories is perfectly compatible with our Prysmian smart solutions range of Standard Loose Tube, Mini Loose Tube and Flextube cables as well as other brands available in the marketplace.


The SJC closure is a splice closure that is used for track, cable repair or branch applications. It has four cable entry ports, a splice cassette for 24 splices and a cable management and storage area. The closure is sealed to IP68 for water and dust tightness. The closure is supplied with four knock-out ports and two entry glands. Up to two additional entry glands can be ordered separately.


A compact closure for track and branch applications.

Closure has four knock out ports.
Each port accommodates a cable gland for cables 5-9 mm.
Closure is supplied with two glands. Additional glands are available separately. See additional items.
Contains a single splice tray for up to 24 splices.
Splice tray accommodates 2.2 mm splice protectors.
Cable management plate to secure cables and route fibres.
Robust construction enabling direct buried applications.
Can be used underground or can be mounted to a wall.
Sealed to IP68 at 5 m and UV resistant to ISO 4892.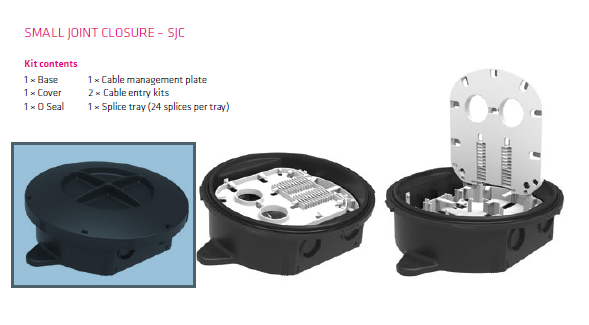 Are you looking for an opportunity to join some amazing organisations?
Please take a look at our Advertised Positions page as these positions will be filled FAST
Directional Driller / Tracker - Adelaide SA

HSEQ Advisor - Sydney NSW

Fibre Planner & Designer - Melbourne VIC

Project / Construction Manager

- Sydney NSW

Cable Installers IBC (in building)

- Sydney NSW
Take a LOOK at these Special OFFERS
These offers are only available to Telco Build Members, so be sure to take advantage of them!
Conduit Stringing Gun EZ50. Comes with all accessories, including 3,000m of string.
Telstra (Parramatta) Rope.
Fibre Optic Fusion Splicer Kit. Comes with all accessories.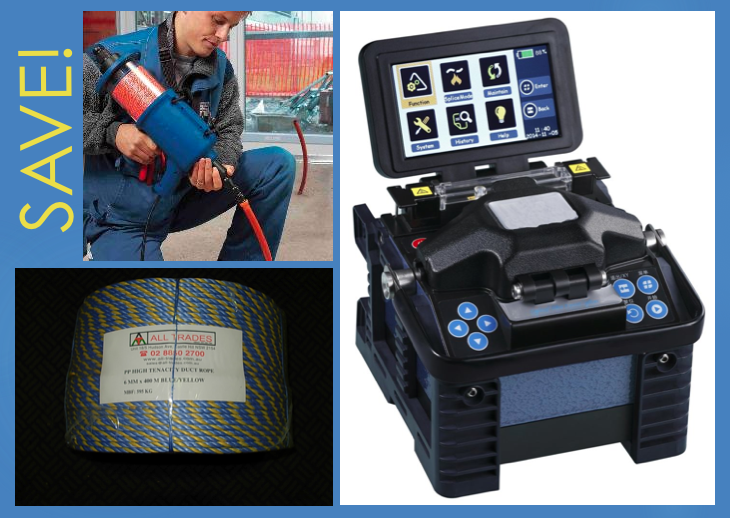 Looking for Great Deals on items FOR HIRE!
Please take a look at our Storeroom Page as Apollo Technology are there to assist you
Fusion Splicing and Test and Measurement equipment hire from Apollo Technology is a great option if you already have capable installers and have a one-off job, or simply require specialised equipment to speed up the completion time for your job. To assist with your installation needs Apollo Technology Pty Ltd can hire out Fusion Splicers and Light source and Power Metre test sets.

• A118 Fusion Splicer and Cleave Tool Set
• Quad Wavelength Singlemode/ Multimode Light Source
• Multi Wavelength Power Metre
• The equipment arrives to you on time, calibrated and ready for use
• All costs up front for equipment & services

Access to the newest, best equipment saves you time and money. Apollo Technology Pty Ltd equipment hire will allow you to save money as well as avoid depreciation costs for equipment that is infrequently used and may become obsolete. Please contact us on 03 9775 1795 or [email protected] at any time for further information or assistance.

Apollo Technology are able to offer daily, weekly, monthly and multi-month hire plans, with next day shipment of new hire orders. Support is available 7 days a week from our team of engineers with first-hand, in-the-field knowledge of our products.


Light Source / Power Metre